Jamie Smith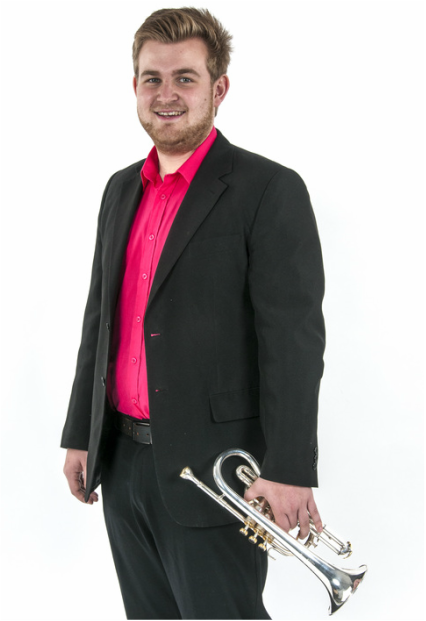 Jamie was born in Yorkshire and began to play the cornet at the age of 8 with the Sellers Youth Band winning all of the major Youth Brass Band Championships. After starting his adult banding career at his local band, Grange Moor Band, Jamie jointed the Yorkshire Building Society Band on 2nd cornet in late 2008, and saw its transition into the Hammonds Saltaire Band in early 2009. After moving up the cornet ranks he was appointed Principal Cornet of the Hammonds Saltaire Band at 15 years of age making him the youngest principal cornet in their history. During an 8 year stint with the band, Jamie helped the band regain their Championship and British Open status.
In August 2015,Jamie was invited to join the Grimethorpe Colliery Band on their tour to Australia where, upon their return, he was delighted to accept the role of Co-Principal Cornet of the band, working alongside Prof. Roger Webster. During a 3 year spell with the band Jamie played both principal cornet and fluglhorn, before accepting the role of principal cornet with the Flowers Band in January 2019.
Jamie was the first player to be principal cornet of both the National Children's Brass Band of GB and the National Youth Brass Band of GB. During this time he was a winner of the Katie Ogden Solo Competition and the Philip McCann cornet award.
Jamie is also currently a member of the award winning A4 Brass Quartet. The quartet have claimed many awards such as the Royal Overseas League Mixed Ensembles winners, Royal Philharmonic Society Award winners, City Music Foundation Arts, and work regularlywith Live Music Now and Music in Hospitals and Care. With the group, Jamie obtained an International Arts Diploma from the Royal Northern College of Music and is currently an Associate Artist in residence of the College. The quartet perform regularly throughout the UK and beyond.
Jamie has performed throughout Europe, as well as Australia, Uganda and 3 solo tours of Japan in association with Besson Musical Instruments. Jamie graduated from the Royal Collège of Music in 2018 with a First Class Honours Degree in Trumpet Performance and continues to preform a wide genre of music world wide.
We are very pleased to welcome Jamie as Musical Director of Hade Edge Band as of August 2019.